Campaign to help 'kids and kitties' live in harmony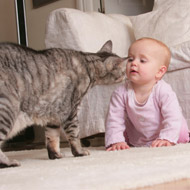 Survey reveals one in 12 new parents give up their pets

Leading feline welfare charity Cats Protection has launched a campaign to encourage parents to keep their pets during pregnancy and beyond.

The #kidsandkitties campaign has been launched in response to figures that show over half of cat owners who are expecting a child have concerns regarding their cat and their pregnancy. Just under 80 per cent of owners have worries about handling cat litter, whilst around 66 per cent have concerns over toxoplasmosis.

Cats Protection's #kidsandkitties campaign aims to put these fears to rest and show expectant parents how they can keep themselves, their children and their cats safe and happy.

"There seems to be a lot of conflicting advice out there about cats, pregnancy and children so we're keen to stress that you don't need to give up your cat if you are pregnant or have young children," said Daniel Cummings, Cats Protection's behaviour officer. "With just some simple considerations, cats and children may live in harmony together and this can bring huge benefits such as helping kids to learn responsibility and compassion for living things."

Cats Protection's findings show one in 12 parents gave up their pets because they were expecting a baby or had young children. Interestingly, the majority of those people regretted that decision.

The findings also reveal that just under half of respondents had concerns about their cat(s) scratching or injuring their child and the cat(s) climbing into their child's cot or pushchair.

Emmerdale star and mum-of-two Samantha Giles is lending her support to the campaign and hopes to encourage people not to give up their cats when they are pregnant.

"I remember when we brought our first baby daughter home we put her down in the lounge so our cats could have a sniff, which they did. Our cats were fairly elderly then, too, and they accepted and loved both our children," she said. "Obviously one has to be sensible and not leave a baby alone with any animal and we made sure we shut the door on Eve's bedroom so that the cats couldn't get into her cot.
"I'd definitely encourage people not to give up their cats when they are pregnant because there are so many benefits to having a pet in the family."

For more information about the campaign and advice on cats and pregnancy, visit https://www.cats.org.uk/kids-and-kitties