Vigilance urged in France amid equine herpesvirus outbreaks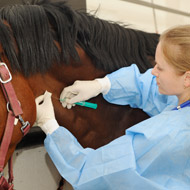 Around 200 horses thought to have been affected
French officials have urged vigilance after several outbreaks of equine herpesvirus among competition horses.

The French monitoring agency RESPE has confirmed 22 outbreaks of the disease, mainly in the west of the country. However, outbreaks have also been confirmed in IIde-de-France, the East and Gironde.

Some 200 sick or suspicious horses are thought to have been affected by the outbreaks. However, not all cases are reported to RESPE, so the actual figure is believed to be higher.

Cases have been confirmed in sport horses, thoroughbreds and trotters. Farms and at least one training centre have also been affected.

The exact source of the outbreak has not been established. But RESPE suspects links to equestrian events between several hostels housing sport horses.

Several equestrian competitions were cancelled over the weekend whilst others took place with preventative measures. RESPE's Crisis Unit has advised sites that have recently hosted infected horses to suspend events and competitions on their premises.

The Crisis Unit has also urged horse owners who have participated in affected areas to increase surveillance of their animals and to avoid competition grounds whilst awaiting sample results.

"Typing and characterization of viral strains is under way in the various outbreaks to allow us to understand the peculiarities of this epizootic," it said. "The first results point to the circulation of several different viral strains."

It added that vaccination remained an effective preventive measure.