Young seal found with air filter around his neck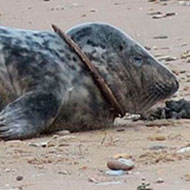 Rescued seal learnt to swim on his back to reduce pain

A wild seal is recovering in Norfolk after being found with an air filter stuck around his neck.

The injured young seal, who has been named 'Relashio', was spotted off the coast of Burnham Overy Staithe by two local teachers, Sarah Jones and Tracey Johnston.

Authorities were alerted and he was quickly rescued by a volunteer from the British Divers Marine Life Rescue and staff from Sea Life Hunstanton.

Veterinary surgeon Christopher Tansley, of Coastal Veterinary Group, said: "Relashio was immediately brought to us to examine him and then remove the object around his neck.

"The circular plastic piece of air filter had obviously been around the poor animal's neck for some time as it had cut deep into the fat as he grew in size. We have seen similar injuries in cats before, but we have never seen anything as severe as this in a seal."

Relashio is now recovering at Sea Life Hunstanton. Staff monitoring him soon realised he had learnt to swim and sleep on his back to help cope with the pain caused by the air filter. He is learning to swim upright again as he mimics other seals at the sanctuary.

Aquarist Nicky Nelson commented: "If he hadn't been discovered then he would have almost certainly perished a slow and painful death as he continued to grow in size, the wound would have continued to deepen until it stopped him from eating or breathing.

"It is just so heartbreaking to see a wild animal suffer through this and I hope people can get more involved in reducing plastic in the environment."

Relashio is expected to make a full recovery and could be released back into the wild in the next four weeks.
Image © Sea Life Hunstanton