Public asked for help naming baby lemur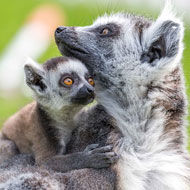 Ring-tailed lemur is one of many spring births

Woburn Safari Park is asking members of the public to help choose a Malagasy name for its baby ring-tailed lemur.

The recent arrival was born in March, to 10-year-old mother Kirindy and seven-year-old father Berenti. He weighed just 30g at birth, the equivalent of a golf ball.

All of the park's lemurs have Malagasy names, as it is the national language of the species' native Madagascar.

Members of the public can now suggest names for the young male lemur, as part of an online competition. The winner will receive a VIP experience for up to four people to meet the lemurs up-close in their enclosure.

Animal keeper Louise Moody said: "You can see how proud Kirindy is, and she loves to show him off to visitors coming through their walk-through enclosure each day. Ring-tailed lemurs are really sociable, so we'll see the whole troop play a role in bringing up the babies."

The zoo has seen a baby boom this spring; also welcoming two critically endangered addax calves, two elands, red-necked wallaby babies and a female lemur.
Image © Woburn Safari Park