Promising new live vaccine for equine influenza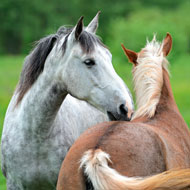 Scientists say progress is important for human and animal health
A new 'live attenuated' vaccine against equine influenza is showing promise, an initial trial suggests.

According to a paper published in the journal Virology, a single spray of the vaccine protected mice and horses against the H3N8 equine influenza virus, which is currently circulating.

Vaccinated horses reportedly showed none of the 'tell-tale' signs of influenza - which include nasal discharge, coughing and wheezing - after being exposed to a natural virus. In addition, scientists said no negative side effects were seen.

However, the study was small and involved only six horses, so plans are underway to conduct a larger study.

Given as a spray through the nose, the vaccine works by replicating and generating an immune response in the nose, where the virus first enters the body. Researchers from the University of Rochester Medical Center said the idea is to stop the virus taking hold in the horse's respiratory tract.

The vaccine was created using a genetic engineering technique called reverse genetics, which offers a major advantage as it can be updated quickly and easily to protect against emerging strains. Traditional vaccines, on the other hand, take months to produce and do not allow the same flexibility.

Equine influenza is currently circulating in North America and Europe and is highly contagious, yet there has not been an updated vaccine for 25 years.

Associate professor Luis Martinez-Sobrido, said a new vaccine is not only important for animal health, but for humans too.

Animals such as horses, pigs and dogs can be infected with multiple influenza viruses and have the potential to act as 'mixing vessels', creating new strains that could infect people. While this has not yet occurred, it is possible, and these strains would be particularly dangerous as humans would have no pre-existing immunity.