Statue dedicated to heroic war horse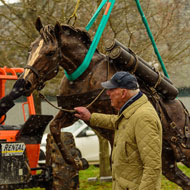 Korean War veterans to unveil statue of Sergeant Reckless

A statue of the heroic war horse Sergeant Reckless, who served in the Korean War, is set to be unveiled at Kentucky Horse Park.

The larger-than-life statue, which weighs in at 1,000lb, is the result of more than two years of fundraising by Marine Corps veterans and private citizens.

Sergeant Reckless became a national hero in 1953, after she made 51 trips to gun sites - mostly by herself - during the Battle of Outpost Vegas.
She carried more than 9,000lb on her back without stopping, despite being wounded twice. She also evacuated the wounded and dead from the battlefield, quickly earning the love and respect of the marines who served with her.

She has already been recognised with bronze statues at Camp Pendleton in California and the National Museum of the Marine Corps in Virginia. However, it was the vision of James E 'Ted' Bassett III, a Marine Corps combat veteran of World War II, that she be memorialised at the park.

Laura Prewitt, executive director of the park, said: "We are so honoured to be custodians of this beautiful monument and monumental legacy of a horse small in stature, but big in courage. Sgt. Reckless epitomises everything great about horses and our relationship with them."

The statue will be unveiled on 12 May, by four Korean War veterans who served with Reckless. The special ceremony will feature a Marine Corps colour guard and speakers including Sgt Harold Wadley, who saw her in action during her most heroic battle.
Image © Kentucky Horse Park