Wildlife conservationist Daphne Sheldrick dies aged 83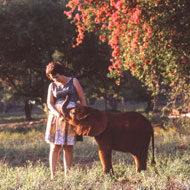 Daphne spent 60 years protecting Africa's wildlife

Dame Daphne Sheldrick, a pioneering conservationist who saved hundreds of orphaned elephants in Africa, has died at the age of 83 after a long battle with breast cancer.

Daphne dedicated more than 60 years of her life to the protection of Africa's wildlife and became the first person to hand-raise newborn elephants and rhinos.

Her knowledge allowed more than 230 orphaned elephants to be saved in Kenya, as well as countless other infants across Africa and into India.

She was born in Kenya in 1934 and spent nearly three decades working alongside her husband David, the founder warden of Tsavo East, Kenya's largest national park. Together they helped to forge the unforgiving wild land into a protected space for Kenya's largest elephant population, as well as countless other wild species.

When David passed away in 1977, Daphne founded the David Sheldrick Wildlife Trust (DSWT) in his memory. Over the next 40 years, the charity played a pivotal role in protecting elephants and rhinos, and helped to shape the world's understanding of these iconic species.

Daphne was a leading voice for elephants and has been featured in numerous TV shows, documentaries and publications. In 1989 she received an MBE for her dedication to conservation in Kenya and in 2006, she was appointed to Dame Commander of the Most Excellent Order of the British Empire. It was the first knighthood to be awarded in Kenya since the country became independent in 1963.

Her daughter Angela Sheldrick wrote on the charity's website: 'It is all very raw but I must share with you the passing of my incredible mother Daphne Sheldrick. What an example she was to us all, and I feel blessed to have been able to call her my Mum because she was quite simply 'one of a kind'. She was a national treasure and a conservation icon…

'Her legacy is immeasurable and her passing will reverberate far and wide because the difference she has made for conservation in Kenya is unparalleled.

'She will be sorely missed, but never forgotten, and this is what Daphne drew the most comfort from in her final weeks; knowing that her memory and work would continue with the tiny steps of baby elephants for generations to come and that the work that she pioneered has been able to achieve so much for wildlife and wild places throughout Kenya.

'She died knowing that she will continue to make a difference each and every day upon a land that she held so dear to her heart through the work of The David Sheldrick Wildlife Trust, thanks to a dedicated team she leaves behind…

'What a gift she leaves us all with, as she really is a shining example of the finest of humanity.'

Angela has run DSWT for the past 17 years and will continue Daphne's legacy, supported by her husband Robert Carr-Hartley and sons Taru and Roan.
Image © David Sheldrick Wildlife Trust