Leaked figures show high death rates in NSW racing greyhounds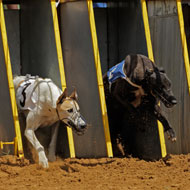 Over 700 dogs died in less than a year after racing ban 'backflip'
Hundreds of racing greyhounds died in the months after Australia overturned its racing ban, according to statistics revealed by Mehreen Faruqi, Greens MP in New South Wales.

More than 700 dogs died in a period of nine months, which equates to nearly three dogs a day, Dr Faruqi said, as around 100 protesters gathered outside NSW parliament yesterday (11 April). The rally marked one year since the government's 'backflip' on greyhound racing.

Dr Faruqi said more than half of the dogs were euthanised on the grounds that they were 'unsuitable for rehoming', which she referred to as "a polite term for how the industry disposes of dogs that no longer turn a profit".

She added: "The original ban passed parliament after thousands of pages of incredibly overwhelming evidence of animal cruelty, drugging, tens of thousands of deaths and a culture that treats greyhounds as disposable.

"But now, the Racing Minister gave the greyhound racing industry $41 million of taxpayer funds against the advice of his own expert panel because the industry would not pay to meet even the low standards of animal welfare that the Government now required of it.

"The much hyped Greyhound Racing Integrity Commission hasn't even been established and the code of practice that was meant to end the cruelty and the deaths hasn't surfaced yet.

"Trainers continue to get caught drugging their dogs with methamphetamine, amphetamine, human growth hormones and arsenic."

The Australian MP also claimed she has obtained documents that show 590 dogs were exported to Macau over the past few years, despite the fact that the country was blacklisted by Australia's racing industry in 2013, owing to high death rates and poor welfare standards.

She is calling on pet transport companies to stop shipping dogs to Macau and China, and to arrange for any dogs left alive to be sent back to Australia for rehoming.

Hundreds more protestors are expected to appear at a second rally in Sydney Park on Saturday (14 April).