BSAVA Congress makes strides in reducing waste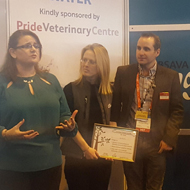 Organisation is first to sign Learning Without Landfill pledge
BSAVA Congress has become the first veterinary conference to sign the Learning Without Landfill pledge to reduce waste and encourage recycling.

Delegates at this year's event will have noticed a number of changes, including the absence of single use water bottles in lunch bags.

Learning Without Landfill, which launched at BSAVA Congress today (7 April), developed owing to concerns about the high levels of waste created during large events. It aims to communicate with the veterinary community, exhibitors and venues to reduce the environmental impact conferences can have.

According to BSAVA, it gave away 14,000 single-use plastic bottles during last year's event, but this year delegates received a free reusable bottle instead. Water fountains were also placed around the conference venue.

Head of congress Angharad Belcher said all water glasses used during the event were in fact made from eco-friendly, compostable Vegware. BSAVA worked with suppliers to ensure paper materials, carpets and even lanyards are recyclable this year.

In a further bid to reduce waste, all leftover food from lunch bags is being gifted to the Hope Centre in Birmingham.

Following the launch, delegates were invited to sign the pledge to help tackle waste and do one thing this year to make a difference.