Fumes from a fish tank hospitalise 10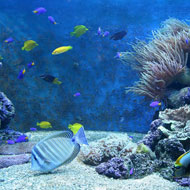 Chemical released from coral inside the tank
Fumes from a fish tank in Oxfordshire left 10 people in hospital on Monday evening.

According to BBC News, the chemicals were released from coral in the tank whilst it was being cleaned. An emergency response unit, including a hazardous area response team, attended the incident.

Scientist Dr Mike Leahy, who was in the area at the time, said on Twitter that the incident was likely to have been caused by "palytoxin" - one of the deadliest naturally occurring toxins in the world.

"In the main, they're absolutely harmless but sometimes if you stress certain types of coral, they can produce a toxin," he told the BBC.

Four firefighters and six family members were taken to hospital. A further three family members remained in hospital overnight after suffering eye irritation and contracting "flu-like symptoms".

Firefighters in full body suits also removed two dogs from the house whilst the remaining coral was dealt with.