Platypus milk protein could 'save lives'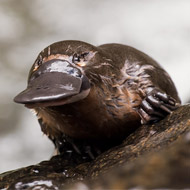 Protein contains unique antibacterial properties

Australian scientists are one step closer to using platypus milk to save human lives.

In 2010, researchers discovered that platypus milk contained unique antibacterial compounds that could be used to combat superbugs. Now a team of researchers from Australia's national science agency, CSIRO, have discovered why platypus milk is so potent.
The research has been published in the journal, Structural Biology Communications.
"Platypus are such weird animals that it would make sense for them to have weird biochemistry," said lead author Dr Jane Newman. "By taking a closer look at their milk, we've characterised a new protein that has unique antibacterial properties with the potential to save lives."

Platypuses are unique mammals in that they feed their young by secreting milk through the pores of their skin. Exposing the mother's highly nutritious milk to the environment, however, leaves young open to the threat of bacteria.

Dr Julie Sharp from Deakin University, who worked with CSIRO on the project, said this was why researchers believed the milk contained a protein with antibacterial characteristics.

Employing CSIRO's Collaborative Crystallisation Centre, the scientists successfully recreated the milk protein, then deciphered its structure to get a better understanding of it.

The scientists dubbed the protein the 'Shirley Temple' due to its ringlet-like shape. Interestingly, they discovered the protein has a novel fold in its structure, which they say will inform future drug research.

"Although we've identified this highly unusual protein as only existing in monotremes, this discovery increases our knowledge of protein structures in general, and will go on to inform other drug discovery work done at the Centre," said Dr Newman.

The team are now seeking collaborators to take the potentially life-saving platypus research to the next stage.
Image (C) Laura Romin and Larry Dalton.