Vet pleads guilty to illegally importing puppies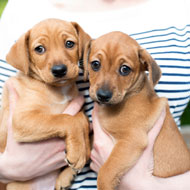 Viktor Molnar banned from operating a pet shop for 10 years

A mobile vet has pleaded guilty to by-passing rabies laws and illegally importing puppies to the UK.

Viktor Molnar, 58, admitted to illegally importing five miniature "teacup" dachshund puppies to the UK and running an illegal pet shop from his home in Prestwich, Greater Manchester.

His conviction follows an investigation by Bury Licensing Service after teacher Mary McFarlane paid Molnar £700 to buy one of the puppies. On the drive home, the puppy was sick, so Mary asked Molnar for a copy of the dog's pet passport.

Mary also took the puppy to her local vet who estimated the dog to be just eight to 12 weeks old - much younger than the age shown on the vacation card. The vaccination card did not show any record of rabies nor multi-headed tapeworm treatment, so the vet contacted Renfrewshire Council and placed the puppy in quarantine.

The documents and information were handed to Bury Council who visited Molnar's home in February. Animal health inspector Sandra Coombes saw four adult dogs and five miniature dachshund puppies in the flat. She was informed that the puppies had arrived by van the previous night, having been brought online by Molnar, and had Hungarian-issued pet passports.

Ms Coombes sought advice from a local veterinary practice, which estimated that the puppies were likely to be under 12 weeks old, and not the 17 weeks shown on their pet passports. As the puppies were too young for vaccination. they could not have brought into the UK legally and were subsequently placed into quarantine.

On Wednesday (7 March) at Manchester Magistrates Court, Molnar pleaded guilty to offences under the Rabies (Importation of Dogs, Cats and other Mammals) Order 1974 and Sections 10, 73 and 75 of the Animal Health Act 1981. He also pleaded guilty to an offence under the Pet Animals Act 1951 for using his premises in Prestwich as a pet shop without a licence.

Molnar was handed a 270-hour Community Order and disqualified from running a pet shop or a boarding establishment for ten years. He was also ordered to pay more than £5000 in compensation and prosecution costs.

Bury Council said that the RCVS will now be contacted over Molnar's fitness to continue practising as a vet.