Parasite forecast to help farmers avoid nematodirus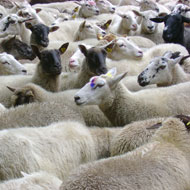 Tool helps vets and farmers assess regional and local risk
An online forecast to help sheep farmers respond to the annual threat of nematodirus has been published by the Sustainable Control of Parasites (SCOPS).

Developed by Bristol Veterinary School, the interactive map provides a traffic light system of warning, alongside practical advice for assessing on-farm risk.

"We could be in for a high-risk season if this late cold snap is followed by a rapid increase in temperature. Such conditions will cause the Nematodirus battus parasite to hatch in large numbers, posing a massive threat to lambs aged around four to six weeks," said Dr Hannah Vinery senior research associate from the Bristol Veterinary School.

"Predicting when outbreaks might happen at a local level is becoming increasingly difficult, due to variation in spring temperatures from year to year. Farmers can no longer rely on a standard timetable of treatments to avoid disease, hence the important role of this easy-to-use forecast. Sheep farmers, vets and advisers can all use it to assess regional and local risk."

Updated daily using data from more than 40 weather stations across the UK, the forecast map tracks changes in risk throughout the spring and early summer. It also allows farmers and vets to select the nearest or most representative weather station, providing advice on treatment, management, and how to relate the predicted risk to their particular farm.

"We are delighted to offer the forecast again this year," said Lesley Stubbing, independent sheep consultant. "Previous users have found it very useful, giving them greater confidence about when it is safe to move lambs or treat them to avoid the risk of nematodirus."

She adds: "Survey data collected by SCOPS shows more than 90 per cent of users changed their approach to nematodirus control by using the forecast, and many reported a significant improvement in lamb health, lower losses and better lamb condition."