Half of veterinary professionals 'do not feel part of a respected community'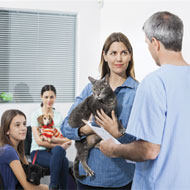 Survey finds client expectations are a particular problem
Just under half of veterinary professionals do not feel part of a respected community, according to new research by VET Festival.

An online survey carried out in December reveals that while 53 per cent of professionals feel valued by their local community and respected by clients, 47 per cent do not.

Explaining why they felt this way, respondents frequently cited misconceptions about high fees, client demands and social media criticism.

VET Festival, which carried out the survey with Centaur Services, is an annual outdoor conference founded by Professor Noel Fitzpatrick.

The survey - which garnered responses from vets, nurses, rehabilitation professionals, practice managers, assistants and students - also revealed that around half of the respondents (51 per cent) felt their vocation in veterinary medicine had met their early expectations. Of these, 60 per cent had graduated over 20 years ago, while 40 per cent qualified less than five years ago.

Among those who felt reality did not match their expectations, the most common reasons given were low work-life balance, financial concerns and high demands from clients.

In addition, the expectations of clients were the main thing veterinary professionals would change about their vocation. One respondent said: "I feel as a profession our integrity is continually questioned in the public and in the media. There is a shift in client expectations above what we can provide and they can afford and this is perceived as vets being greedy."

Nonetheless, 91 per cent of respondents said they were proud to work in the veterinary profession. The most important aspirations for veterinary professionals were cited as 'making a difference to animals' lives', 'a healthy work-life balance' and 'personal skill development'.