Mouse study offers promise for MS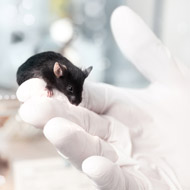 Scientists explore personalised treatments based on skin cells

New research on mice suggests that personalised stem cell treatment could offer relief from progressive multiple sclerosis (MS).

Led by the University of Cambridge, researchers re-programmed skin cells into brain stem cells and transplanted them into the central nervous system. Findings published in the journal Cell Stem Cell suggest this reduced inflammation and may even help to repair the damage caused by MS.

In patients with MS, the body's own immune system attacks and damages the protective myelin sheath around nerve fibres. This causes disruptions to messages sent around the brain and spinal cord. Symptoms are unpredictable and include mobility and balance problems, pain and severe fatigue.
Previous research at Cambridge has shown that transplanting neural stem cells (NSCs) - which are part-way to developing into nerve cells - reduces inflammation and can help the CNS to heal.
However, NSCs cannot be obtained in large enough quantities as they are sourced from embryos. There is also a risk that the body will see view them as an alien invader and trigger an immune response to destroy them.
Researchers say a possible solution is using 'induced neural stem cells' which can be created by taking a patient's skin cells and re-programming them to become NSCs. As these iNSCs would be the patient's own, scientists say they are less likely to trigger an immune response.

In their study, the team used mice that had been manipulated to develop MS. They found that chronic MS leads to significantly higher levels of succinate in cerebrospinal fluid. Succinate is a small metabolite that 'tricks' macrophages and microglia into causing inflammation.

Transplanting NSCs and iNSCs into the cerebrospinal fluid reduces the amount of succinate, they said - effectively turning 'bad' immune cells 'good'. As a result, there is a decrease in inflammation and secondary damage to the brain and spinal cord.
Lead author Dr Stefano Pluchino explained: "Our mouse study suggests that using a patient's reprogrammed cells could provide a route to personalised treatment of chronic inflammatory diseases, including progressive forms of MS.
"This is particularly promising as these cells should be more readily obtainable than conventional neural stem cells and would not carry the risk of an adverse immune response."