New method improves racehorse welfare after tendon injury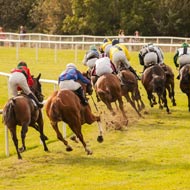 System uses ultrasound to help vets make informed choices
Experts have developed a new technique that could significantly improve racehorse welfare, by helping vets and trainers to make informed and early choices after a tendon injury.

Researchers from the University of Nottingham, Oakham Equine Hospital and the Hong Kong Jockey Club created a scoring system to grade tendon injuries when they first occur.

This was used in a large cohort study to determine which ultrasound features predict whether or not horses can successfully race again after rehabilitation.

The predictive model suggests that clinicians should focus on two main characteristics of the tendon injury - the cross-sectional area of the lesion and the extent of disruption to the normally high-ordered pattern of tendon fibres. Both of these are easily accessed through ultrasound at the first presentation.

"Ultrasound is a quick and easy method of assessing tendon injuries, widely available across veterinary practices," said Dr Rafael Alzola, equine surgery resident at Nottingham University and Oakham Veterinary Hospital. "The scoring system makes evidence-based decision making on long term outcomes feasible and accessible to equine veterinary practitioners."

In the UK, around 14,000 horses are currently training, but not all will compete on the country's 60 racecourses. Of those that do, a relatively small percentage will suffer a tendon injury and a high proportion of these will no longer be fit to race.

The three 'Equine R's' are the standard treatment for tendon injuries in racehorses. They comprise; Rest (until able to race again), Rehabilitation (towards an alternative career) or Retirement.

Professor Chris Riggs, head vet at the Hong Kong Jockey Club, said: "Decisions on future careers for racehorses have to be carefully considered by the horse's owner, trainer and vet, working together.

"This study is important from a welfare perspective, as it provides the information to help them make decisions which are best for the horse's long term welfare, as soon as the injury occurs."

Researchers have worked with ultrasound company BCF Technology to develop an app, Visits ToDo, which is based on the scoring system and allows vets to record animal health and diagnostics in the field.