Northern Ireland urges vigilance following Schmallenberg reports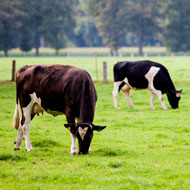 Fourteen cases have been presented for testing
Farmers in Northern Ireland are being urged to be vigilant for signs of Schmallenberg virus (SBV) after 14 cases were presented to the Agro-Food and Biosciences Institute for testing.

Speaking to Farmers Weekly, Ulster Farmers' Union president Barclay Bell said: "It is concerning that there are a growing number of reports of this virus being found in Northern Ireland. It is an awful situation for any farmer. No one wants to see Schmallenberg on their farm."

Although SBV is not a notifiable disease in Northern Ireland, the government is advising farmers to approach their vet if they spot any signs of the disease in their sheep or cattle. These include fever, inappetence, a reduced milk yield and diarrhoea.

SBV first emerged in November 2011 and has since spread throughout Europe. It is transmitted by biting midges and causes severe deformities in calves, lambs and kids.

Sheep are most at risk of catching SBV in their second month of pregnancy, whilst cattle are more likely to contract the disease during their third to fifth month of pregnancy. So far this year, there have not been any confirmed cases of the disease in England.