Scottish MP rejects proposals for ban on live animal exports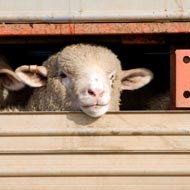 Fergus Ewing says move could harm the livestock sector

Scotland's rural economy secretary Fergus Ewing has announced his opposition to proposals for a ban on live animal exports.

The government is currently considering a ban on the export of live animals for slaughter and is due to launch a consultation in the Spring. But Mr Ewing is reported to have said that he will not support anything that creates further challenges for the Scottish farming industry.

According to BBC News, Mr Ewing believes the move could cause "substantial harm" to the livestock sector, as well as farming on neighbouring islands.

He said: "The Scottish government will, therefore, not support the banning of live exports of livestock, but will remain committed to the welfare of all animals during transport adhering to the current rigorous standards which apply – standards and regulations provided by the EU, that are already world class and protect us all through animal, plant and chemical health measures and enabling our produce to be traded around the world."

Responding, Scottish animal protection charity OneKind said that the comments are "unsubstantiated and out of touch with the Scottish public".

"A ban on the export of live animals outside of the UK would have no impact whatsoever on the ability of farmers on the islands to sell their livestock within the UK, nor would it prevent businesses selling meat products outside of the UK," said OneKind director Harry Huyton.

"It is designed simply to prevent the abhorrent practice of sending live sheep, cows and other animals on long journeys, in inhumane conditions where animals often give birth on lorries, suffer injuries and even die."
On Monday 26 February, MPs will gather in Westminster to discuss and debate banning live animal exports in favour of a carcass-only trade. The debate was triggered after a petition garnered more than 63,000 signatures.