Hunting hounds pose 'significant' disease risk - study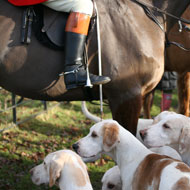 Report outlines risk factors for disease transmission
Hunting with hounds could pose a 'significant' risk of disease transmission to both livestock and people, according to a new report by researchers from the University of Bristol.

The study was commissioned by the League Against Cruel Sports after the 2016 outbreak of bovine TB in hounds at the Kimblewick Hunt. Authors of the report, Professor Stephen Harris and Dr Jo Dorning, both from Bristol's School of Biological Sciences, examined more than 1,000 pieces of evidence in the public domain.

Researchers wrote that, despite a lack of quantified data, a wide range of diseases - including zoonoses and notifiable diseases - have been recorded in packs of hounds, both in the UK and elsewhere. The data show that risk factors include feeding raw meat and offal, poor standards of kennel hygiene, lack of adequate veterinary care, lack of routine disease monitoring, close contact with livestock and interacting with other packs of hounds.

A key concern highlighted is the lack of biosecurity measures during hunts, as large numbers of horses, dogs, people and vehicles move between farms and across farmland. Hunts contravene basic biosecurity advice for livestock farming, the authors added.

Fallen stock
Diet is a significant issue, as most hounds are fed raw meat and offal from fallen stock, which can carry a number of life-threatening pathogens for humans. It is unclear how well the EU Regulations on collecting and transporting fallen stock are observed by hunt staff. However, a number of studies suggest fallen stock collectors are the least likely farm visitors to follow basic biosecurity rules, despite the high risk of disease transmission.

Causes of death among fallen stock are not routinely recorded, but one study identified a wide range of diseases that can infect humans and animals. Researchers believe it is 'inevitable' that hounds are 'regularly fed with livestock that has died from a disease that could infect animals and/or humans'.

Contact with the public
Furthermore, hounds are displayed at hundreds of events a year, where they have direct and indirect contact with other hounds, livestock and members of the public. And whilst there are strict biosecurity rules in place for livestock displayed at shows, they do not apply to packs of hounds.

The researchers said children are at particular risk of disease transmission, owing to their immature immune systems and poor hygiene. There are also disease risks to other animals, which is demonstrated by the spread of kennel cough between packs of hounds in Britain and leishmaniasis in foxhounds in North America.

Travel risks
Sporting visits are another risk factor, as hunts transport horses, hounds, vehicles and followers to hunt in different parts of the country. Hunts also pose a risk of introducing novel diseases to Britain, following sporting visits to European countries where zoonoses of concern are endemic.

It is thought foxhounds could maintain and spread leishmaniasis if it is brought to the UK, as has occurred in North America. Similarly, as foxes are the main host of Echinococcus multilocularis, hunts are 'likely to exacerbate the spread of the disease by increasing dispersal movements of juvenile foxes, and by spreading eggs while hunting'.

'Burden' on farmers
The report suggests hunts are likely to impose a 'substantial financial burden' on livestock farmers, by contributing to the spread of diseases such as ovine hydatidosis and sheep tapeworms, which cause major economic losses.

Dog fouling and the associated disease risk is another concern. Unlike pet dogs, packs of hounds are often out of sight and a long way away from the huntsman during a hunt, meaning it is not possible to collect their faeces, to keep them away from livestock and crops, or prevent them drinking from water troughs.

'Lack of transparency' on hound health
Researchers noted there is also 'remarkably little information on the health of hunting hounds in Britain', although it is thought more than 4,000 are culled each year, typically when they are no longer able to hunt with the pack. This is usually when they are between half and two-thirds of their normal life expectancy. Culled hounds are rarely examined post mortem, however, meaning infectious diseases could go unnoticed.

There is a 'lack of transparency' on the veterinary care of British hounds - however, published information suggests vaccination and worming programmes are 'inadequate to limit the spread of disease,' the report said.