Particulates are the 'major pollutant of concern in wildfires'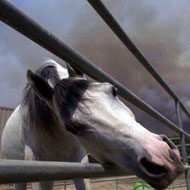 UC Davis offers guide for horse owners and vets in California
Equine specialists in California have published new guidelines to help horses exposed to wildfire smoke, in response to severe fires across the state over the past three months.

Unhealthy air containing wildfire smoke and particulates can build up in the respiratory systems of both humans and horses, causing health issues such as burning eyes and bronchitis.
Particulates can also worsen diseases of the heart and lungs - including congestive heart failure, chronic obstructive pulmonary disease, emphysema and asthma.

Specialists at the University of California (UC) Davis are offering a general guide, as there is little information available for horse owners and even veterinarians.

The major pollutant of concern in wildfire smoke is particulate matter, which is a general term for a mixture of solid particles and liquid droplets in the air. As particulates in smoke are very small, they are able to reach the deepest airways within the lung.

Smoke produces similar effects in horses and humans - irritation of the eyes and respiratory tract, worsening of conditions such as recurrent airway obstruction and reduced lung function. High concentrations of particulates can cause a persistent cough, increased nasal discharge, wheezing and changes to the immune system, making it harder for the lungs to remove foreign materials, such as pollen and bacteria.

Key advice from UC Davis specialists includes:
Limit exercise when smoke is visible - do not allow horses to carry out activities that increase airflow in and out of the lungs
Provide plenty of fresh water close to where the horse eats to keep airways moist, aiding the clearance of any inhaled particulate matter
Feed dust-free hay or soak hay before feeding to limit dust exposure
Owners are advised to see a veterinary surgeon if their horse is coughing or having difficulty breathing
Airway damage from wildfire smoke takes four to six weeks to heal, so horses should be given that length of time off, from the date that the air quality returns to normal. Exercise may worsen the condition and delay the healing process
Air Quality Index is is used to gauge recommendations for human athletes. UC Davis said it may be reasonable to use this for equine athletes too. The National Collegiate Athletic Association says schools should consider sensitive athletes are removed from outdoor practice or competition venues at an AQI over 100. All athletes over 150 should be monitored closely and those with AQIs of 200 or above should be removed from outdoor practice or competition venues.

For further information, see the UC Davis guidelines: http://www.vetmed.ucdavis.edu/whatsnew/article.cfm?id=4054
Image © UC Davis