Nominations open for RCVS Council elections 2018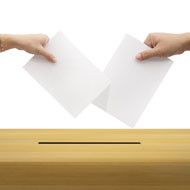 Three places available under new governance arrangement

Nominations for veterinary surgeons wishing to stand in next year's RCVS Council Election are now being accepted by the RCVS.

To stand for election, candidates must submit a nomination form together with contact details, a short biography, a statement and a high-resolution digital photograph. The nomination period runs until 5pm on 31 January 2018.

Each candidate is required to have two nominators who should be veterinary surgeons. They must be on the College's Register but should not be current RCVS Council members.

RCVS president Professor Stephan May said: "I myself have been an elected Council member since 2012, and it has given me tremendous opportunity to get involved with a whole range of subjects, including my particular interests, undergraduate education and lifelong learning.

"It's incredibly rewarding to see how the decisions you make during your time on Council can really benefit the profession, and I would encourage anyone who shares an interest in the future of our profession, whether that be about graduate outcomes, practice standards, the wider veterinary team or the effects of Brexit, for example, to stand for election."

Whilst the RCVS is planning elections as normal, it is also preparing for a change to its governance arrangement. This includes a reduction in the size of Council, as agreed in March 2016.

Commenting on the Legislative Reform Order (LRO) that will be needed to amend the Veterinary Surgeons Act 1966, RCVS Registrar Eleanor Ferguson said: "This is a complex matter and, unfortunately, due to unavoidable delays associated with the 2017 General Election and the impact of preparing for the UK's departure from the European Union, the LRO has not yet completed the legislative process. 


"This means that whilst we will be running the elections on the basis that there will be six elected places available, as per the old size and structure, it should be expected that under the new size and structure, only three places will ultimately be available."

At the same time, change to the governance of the veterinary nurse's council, including a reduction in its number, means there will be no VN Council election in 2018 as the outgoing members will not need to be replaced.

Nomination forms, guidance notes and frequently asked questions are available for prospective RCVS Council candidates at www.rcvs.org.uk/rcvscouncil18. The RCVS Council election period will start around mid-March and voting will close at 5pm on Friday 27 April 2018.