Instagram takes steps to address wildlife selfies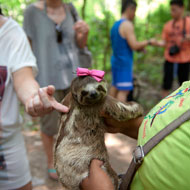 Content advisory warning aims to educate users
Instagram users who search for animal selfies will now be taken to a content advisory screen, warning them they are searching for content that is associated with harmful behaviour to animals.

The social media site, which has 800 million users, has worked with the animal welfare charity, World Animal Protection, to tackle wildlife selfies.

Many of the animals tourists take photos with are taken from the wild and kept in cramped conditions, passed from tourist to tourist, causing extreme stress.

Now, when Instagram users search for hashtags such as #koalaselfie or #slothselfie, they will be presented with a warning message that reads: 'Animal abuse and the sale of endangered animals or their parts is not allowed on Instagram. You are searching for a hashtag that may be associated with posts that encourage harmful behaviour to animals or the environment.'

There has been a 292 per cent increase in the number of wildlife selfies posted on Instagram since 2014, according to a recent report by World Animal Protection. Over a quarter were 'bad' selfies, showing tourists hugging, holding or interacting inappropriately with wild animals.

The charity's research, carried out in Latin America, found evidence of cruelty such as sloths captured from the wild and tied to trees, surviving no longer than six months; caiman crocodiles with rubber bands around their jaws; wounded and dehydrated green anacondas; and birds with severe abscesses on their feet.

Following the research, the charity launched its Wildlife Selfie Code to help tourists learn how to take a photo with a wild animal without causing harm or fuelling the cruel entertainment industry. A quarter of a million people have since signed up.

Instagram said in a statement: 'The protection and safety of the natural world are important to us and our global community. We encourage everyone to be thoughtful about interactions with wild animals and the environment to help avoid exploitation and to report any photos and videos you may see that may violate our community guidelines.'

World Animal Protection said it was 'delighted' the social media platform recognised that animal abuse happens 'both in front and behind the camera'.
Image courtesy of World Animal Protection