Amphibian may hold key to curing cirrhosis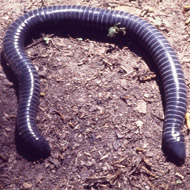 Unique liver cells break down the protein collagen

A South American amphibian could hold the key to curing cirrhosis, according to new research.

Researchers found the liver of Siphonops annulatus contains unique liver cells - known as melanomacrophages - which can remove and break down the protein collagen. In turn, this helps to minimise unwanted inflammation and reduce scar tissue which can lead to cirrhosis.

Study author Dr Augusto Coppi from the University of Surrey said: "The liver function of this amphibian, Siphonops annulatus, may provide us with a unique opportunity to solve one of the most devastating illnesses of the liver.

"We do need further in-depth investigations into how this discovery can be translated into humans, but it may have the potential to alter how we view and treat this disease."

Cirrhosis occurs in response to liver damage. Hepatitis, chronic alcoholism or other harmful substances can all prompt the response of self-repair in the liver, which manifests as a high production of collagen and scar tissue.

As the condition progresses, liver functions such as cleaning blood become difficult. Several treatment strategies for cirrhosis have been attempted across the world including delaying or removing the underlying stimulus that causes scar tissue to form.

Dr Robson Gutierre from the Federal University of Sao Paulo said: "The ability this species has to break down its natural defences could also provide insight into immunity tolerance, a mechanism by which the liver can minimise unwanted inflammations.

"|mmunity tolerance can be studied in this species because they produce pro-inflammatory cells in the hematopoietic liver throughout its whole life, without developing chronic inflammations."

The study, Melanomacrophage functions in the liver of the caecilian Siphonops annulatus, is published in The Journal of Anatomy.

Image (C) Andreas Schlüter