Minister issues warning on backstreet breeders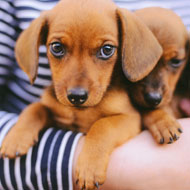 Potential pet owners urged to buy responsibly
Animal welfare minister Lord Gardiner is urging potential pet owners not to buy puppies from backstreet breeders or illegal puppy smugglers.

With people buying pets as Christmas presents, the puppy trade surges at this time of year but Defra is warning the public that puppy smugglers and unlicensed sellers are ready to take advantage of the demand by illegally importing puppies into the country, neglecting their health and welfare.

"We all know that a dog is for life, not just for Christmas," Lord Gardiner said. "But that life could be cruelly cut short if they haven't been properly looked after by the breeder, bringing heartbreak to the family.

"We are a nation of animal lovers and buyers can do their bit to avoid the dishonest sellers by never buying a puppy younger than eight weeks old, seeing the puppy interact with its mother and checking on its health history."
Lord Gardiner has provided top tips for anyone looking to buy a puppy.
BVA president John Fishwick added: "Vets see first-hand the tragic consequences that can result from poorly bred and illegally imported puppies. We've heard awful stories of people buying puppies only for their puppy to be dead 24 hours later because of the way it was bred and cared for in its early days…
"A dog should never be bought 'for Christmas' as it can be a stressful time of year for pets, with lots going on, so we'd recommend waiting until the new year to welcome a new dog into your home."
Mr Fishwick advised potential pet owners to speak to their local vet about choosing the right breed for them and use the free online puppy contract.
Paula Boyden, Dogs Trust veterinary director, said impulse buying of pets online has "increasingly become an appealing option" for many buyers, but the lure of quick sales "also attracts many unscrupulous breeders and dealers".
She added: "We urge buyers to be cautious when looking to buy an animal via an online advert and if they have any concerns, walk away and report the seller to Trading Standards."
Earlier this year it was announced that some of the Pet Advertising Advisory Group's minimum standards for online pet adverts will become mandatory. This forms part of a number of reforms to the animal licensing system, which will make it illegal to sell puppies younger than eight weeks and require anyone breeding and selling three or more litters a year to be licensed. Anyone trading commercially in pets online will also require a licence.
The plans will be laid before parliament next year.