Foal registration rule 'to improve welfare and traceability'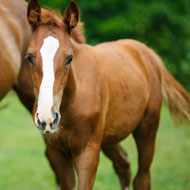 All births must be registered within 30 days - BHA
The British Horseracing Authority (BHA) has announced a new requirement to register all foals bred for racing within 30 days of their birth, in a bid to improve traceability and animal welfare.

Since March 2015 it has been a requirement to register foal births within one year for anti-doping purposes. From 1 January 2018, however, this period will shrink to 30 days.

BHA says the new rule will allow it to trace the welfare and whereabouts of foals before they arrive at a registered training yard, as well as recording locations and monitoring the welfare of unnamed horses. It brings Britain into line with international practice, across many other major racing jurisdictions.

Jamie Stier, BHA's chief regulatory officer, said: "The information gained will improve transparency and traceability around the care that breeders and owners provide to thoroughbreds in the formative stages of their lives, and is critical to our industry upholding its commitment to leading on animal welfare standards.

"It will lead to increased accountability in both the racing and breeding industries, and support the BHA in delivering a welfare commitment to our horses which will now encompass their pre-racing lives, as well as their racing careers."
The new requirement will also further support the BHA's anti-doping policy and could help to establish future trading relationships, enabling horse movements across borders once the UK has left the EU.
Julian Richmond-Watson, chairman of the Thoroughbred Breeders' Association, welcomed the change, adding: "Effective systems to provide traceability are rightly seen as instrumental in dealing with infectious diseases, and in maintaining the high health status of British Thoroughbreds."
Birth notifications will be managed by breeders and owners through Weatherbys' General Stud Book online system, which will be up and running from 22 January 2018. Birth registration can be completed at the same time as foal registration, on the same platform, and there is no addition fee for notifying births within the 30-day window. An ascending fee structure will be in place for notifications made after the 30 days have elapsed.