New cases of Alabama rot confirmed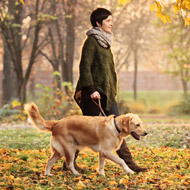 Dog owners urged to remain vigilant
Anderson Moores Veterinary Specialists has confirmed another six cases of Alabama rot, bringing the total number of confirmed cases in the UK to 109.

The new cases are from Berkshire, Greater Manchester, Warwickshire, Staffordshire, Devon and Lancashire. They are the first cases to be confirmed since May, adding support to the theory that the disease may be connected to the seasons.

David Walker, the UK's leading expert on the condition, from Anderson Moores, said: "Although we are working hard to find out the cause of Alabama Rot, it is currently still unknown, which makes the reappearance of the disease concerning.

"It's always desperately sad when we confirm new cases; however, it's important that dog owners remain calm, but vigilant, particularly during the next few months.

"The first sign of the disease that is normally seen is a skin sore that isn't caused by a known injury. Most commonly these sores are found on the lower half of the leg and appear as a distinct swelling, a patch of red skin or are open and ulcer-like.

"While there is currently no known way to prevent a dog from contracting the disease, there is a very useful guide available online to help people understand where in the UK confirmed cases have been found and advice on how to spot signs."

In May 2017, veterinary specialists from across the UK gathered for the inaugural Alabama rot conference to discuss ongoing research and set up a steering committee to share new findings.

After the event, the first stage of research was planned, with funding from the New Forest Dog Owners Group and the charity Stop Alabama Rot. Dr Kim Stevens, of the RVC, who is carrying out the research, said it is expected to conclude by the end of the year, but would not identify the specific cause of the disease.

She said: "This research is designed to look for geographical patterns, as well as environmental and climatic risk factors. An obvious pattern that we can see is linked to seasons, with the vast majority of cases occurring between November and March, and limited cases over the summer."

The 109 cases of Alabama Rot, clinically known as idiopathic cutaneous and renal glomerular vasculopathy (CRGV), are spread across 30 counties in the UK. The greatest number of confirmed cases have been in Greater Manchester and the New Forest in Hampshire.