Chief vet defends stance on colony cages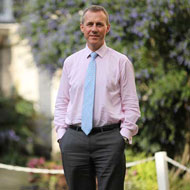 Open letter by vets criticised 'brazen endorsement'
The UK's chief vet Nigel Gibbens has defended his stance on the use of colony cages to protect birds from avian influenza, after a group of 10 leading vets called his comments "extremely disappointing".

During a speech at the Egg and Poultry Industry Conference (EPIC) in South Wales, Mr Gibbens outlined the conflict between increasing demand for cage-free eggs, and managing the disease risks for free range birds in parts of the country that are at greater risk of avian flu.

All major UK retailers have pledged to stop selling cage eggs by 2025. Mr Gibbens was quoted by Farming UK as saying this is a "real challenge" for producers and a "regrettable move" as colony cages "have a lot going for them and there's good evidence that that's the case."

Responding, 10 vets including Pete Wedderburn and Marc Abraham, wrote an open letter to The Times saying the chief vet's 'brazen endorsement' of colony cages is 'extremely disappointing'. It calls on the government to take a more 'progressive position' on hen welfare.

The letter continues: 'The caging of any animal limits their behaviour due to overcrowding and severe restrictions of space which is seriously detrimental to their welfare. Colony cages do not provide adequately for foraging, perching or nesting, which are fundamental species-specific behaviours for a hen.

'The avoidance of the spread of disease can be solved in other ways than by keeping hens in cages. There are management options such as winter gardens (verandas), enclosed areas which are sheltered from the outdoors but which still allow for freedom of movement and behaviour. These offer a viable solution in times of outbreaks and should be encouraged rather than continuing to push cages as an ethical option for hens.
'As vets, we should be driving for improvements beyond cage-free systems, not promoting dated systems that cause suffering to millions of sentient birds.'
Mr Gibbens has responded to criticism in a series of tweets, with one reading: 'Colony cages offer welfare benefits and more space that the battery cages that they replaced. Housing is a necessary defence against avian flu at times of high risk. Obliging free range risks disease that is really bad for welfare.'

Battery cages of hens were banned in the EU in 2012. Defra guidance states that the enriched - or colony - cages that replaced them must have at least 750 square centimetres of space. The minimum requirement for battery cages was 550 square centimetres.
A statement published by Defra says: 'Our position is clear, it is paramount welfare concerns are balanced against any potential health risks. Indoor production provides both greater protection from bird flu during an outbreak than free range systems as well as more space than the banned battery cages.'
Mr Gibbens said free range production presents a higher risk, not just of avian influenza, but other diseases too - and especially for birds close to bodies of water. Whilst this risk can be managed and free range can be "a very good system", when it comes to AI, it is better for birds to be housed, he added.

"If there is a serious threat of avian flu we will have to return to housing. If we return to housing we will probably look at the risk and we might just return to housing in higher risk areas."

The past year has seen an unprecedented level of avian influenza H5N8 across Europe, driven by disease in wild birds. Mr Gibbens says cases of H5N8 are starting to be seen in Europe again, so the risk level for wild birds in this country has been raised to medium. The risk level for domestic poultry is currently 'low' but Mr Gibbens said this could increase if there is a further increase in the number of infected wild birds.