New campaign urges public not to buy pets on impulse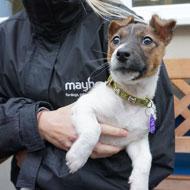 Pets bought online ending up in rescue centres, charity warns
Mayhew animal welfare charity has launched a Christmas campaign to raise awareness of the number of pets ending up in rescue centres after being bought online.

Through its 'I am NOT an Impulse Buy' campaign, the charity is urging potential owners to be responsible and consider adopting from a rescue centre who can provide advice.

The charity recently helped a tiny six-week-old puppy that was illegally sold through a buy and sell website. The seller arranged to hand over the Jack Russell pup, named Luna, in a car park but as soon as her owners got her home they noticed she was constantly scratching and had severe diarrhoea.

After taking her to the local veterinary surgery, however, Luna's new owners could not afford diagnostic tests so the puppy was taken to Mayhew.

Vets at the charity's community vet clinic diagnosed Luna with the highly contagious skin disease, sarcoptic mange, which is zoonotic. Luna was treated with a topical drug to kill the mites and antibiotics for a secondary bacterial skin infection. She has since been neutered, vaccinated and rehomed.

Mayhew has collaborated with Ravensbourne University on its campaign video.