Sheep 'can read each other's facial expressions'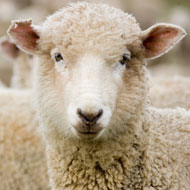 Research has important animal welfare implications
Sheep can distinguish each other's facial expressions, according to new research, which has been described as an important discovery for animal welfare.

The study is the first to suggest that sheep can tell the difference between negative and neutral facial expressions. It is thought that if animals are able to perceive emotions in others, it is likely to affect their own emotional state.

Sheep do not have very developed oro-facial musculature compared to primates, but they are able to show a wide range of facial expressions, particularly those involving ear posture.

Researchers from Scotland's Rural College (SRUC) photographed sheep in three situations; their home pens (neutral), during social isolation (negative) and during aggressive social interactions (negative).

The sheep were then trained to associate one type of facial expression with a reward. Half of the sheep learned to associate the image of a negative facial expression with a reward, while the other half were trained to associate a neutral facial expression with a reward.

Once they had learned this task, they had to generalise the discrimination to new images of faces, displaying the same emotions. All sheep managed to learn the task.

Lead author Dr Lucille Bellegarde said: "This study showed for the first time that sheep are not only able to discriminate between facial expressions, but they are also able to perceive the valence – in other words, negative or neutral – of the expressions displayed.

"In terms of animal welfare, it is essential to be able to understand how emotions are perceived between animals reared in groups. Because this emotional perception is likely to affect their own emotional state, it might take just one happy – or unhappy – sheep to make an entire flock happy, or unhappy."

The study has been published in the academic journal Frontiers in Veterinary Science.