Warning over rise in blackleg cases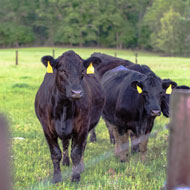 Vaccination is the best approach, AHDB says
Farmers are being warned about a rise in cases of the clostridial disease blackleg.

The disease was the second most common diagnosis made when post-mortems were carried out on growing cattle at Farm Post Mortems Ltd between June and August 2017. The rise continued to be seen throughout September and October.

Blackleg is most commonly caused by the bacteria Clostridium chauvoei, which is generally found in soil and cattle faeces. Similar lesions are less commonly caused by Clostridium septicum or Clostridium novyi.

Young growing animals (six to 12 months) are most often affected, with cases increasing when animals are turned out.

Vaccination is the best approach as antibiotic treatment is unlikely to be effective unless it is begun in the very early stages, according to AHDB Beef & Lamb.

There is a vaccine available that covers just blackleg alone, or multivalent clostridial vaccines that also offer protection against the disease. Several clostridial vaccines are broad spectrum and prevent other important diseases such as black disease, clostridial abomasitis and disease caused by Clostridium perfringens.

Animals should be vaccinated from three months of age onwards. Two injections are required three to four weeks apart. Immunisation must be completed two or three weeks before the period of risk, which will vary depending on the date of turnout.
A yearly booster of a single injection should be given two to three weeks before the period of risk, and the interval for boosters should be no more than 12 months.

Farmers are advised to speak to their veterinary surgeon for advice.