Italy votes to ban animals in circuses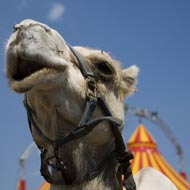 Lobbyists call the move a 'major breakthrough'
Italy is set to phase out the use of all animals in circuses and travelling shows, after a vote in the Assembly of the Parliament.

The country has one of the world's largest circus industries, with around 100 circuses and 2,000 animals, according to campaign group Animal Defenders International (ADI).

It is the 41st country to pass a national law banning animals in circuses.

Rules for implementation of the new legislation will be set our within a year, ADI revealed, calling the move a 'major breakthrough'.

ADI has conducted undercover investigations within animal circuses in the UK, Europe, USA and South America. The group said its exposure of animal abuse behind the scenes has led to bans in countries such as Greece, Singapore, Costa Rica, Taiwan and Colombia.

It also carried out major enforcement operations in Bolivia and Peru, where all circuses were tracked down and 200 animals were rescued and relocated.

ADI urged countries including the UK and USA to follow Italy's lead.

So far, Scotland has introduced a bill to ban wild animals in circuses, which is currently at stage two for further scrutiny. The Welsh Government recently consulted on mobile animal exhibits and asked whether wild animals should be banned from circuses.

Ireland is also set to debate a private members bill to ban wild animals in circuses later this month.

In England, the government has committed to a ban but there is no indication as to when the legislation - which was drafted and scrutinised in 2013 - will be introduced.