Capsule could reduce need for booster injections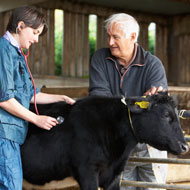 Device may revolutionise human and medical sectors

Edinburgh researchers are developing a new device that releases medicine at specific times. It is hoped the device - a capsule that is implanted under the skin - could revolutionise both human and animal medicine.

The project is being delivered by The Roslin Institute and Heriot-Watt University who have been awarded £800k of funding from the Biotechnology and Biological Sciences Research Council (BBSRC).
It is assessing the potential for single-shot vaccine delivery in cattle, thereby reducing the need for booster vaccinations. Researchers say that if the project is successful, it could also be used for antibiotics, chemotherapeutics and other drugs.
The 3D-printed capsule contains a single-shot of vaccine as well as a sugar solution. The sugar pulls water through the wall of the capsure leading to pressure build-up. Eventually the capsule bursts and delivers the vaccine.

"By carefully tailoring the material properties and capsule design, we aim to achieve release at the desired time-point, without needing any intervention, said Dr Ferry PW Melchels, assistant professor at Heriot-Watt's Institute of Biological Chemistry, Biophysics and Bioengineering.
"This will omit the need for a second visit to the doctor or a second visit from the vet; it will even allow to vaccinate wildlife without having to recapture the animals to give them their booster shots."
Jayne Hope of The Roslin Institute added: "We are delighted to have been awarded funding from the BBSRC for this joint project with Heriot-Watt University.
"This project will investigate the potential for single-shot vaccine delivery in cattle, thereby reducing the requirement for booster immunisations. This could have a significant impact on the control of infectious diseases in livestock."