Multi-species study reveals new insights into OCD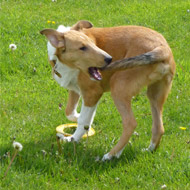 Researchers identify new genes associated with the disorder

A study by US scientists has revealed new insights into the genetics underlying obsessive-compulsive disorder (OCD) in humans and animals.

Researchers at the Broad Institute, Massachusetts, compared genetic information across multiple species that suffer from compulsive behaviour disorders and found four new genes with OCD-variants in humans.

The genes are thought to disrupt synapse development and throw neural pathways in the brain out of balance. The data is published in the journal Nature Communications.

OCD is a mental health disorder that affects some 80 million people worldwide. Obtained by inheritance, the biology of the disorder is still poorly understood.

To better understand the disorder, the team compiled a list of genetic associations from previous studies of human and animal OCD. The team used the data to refine a list of more than 600 genes and 80,000 related regulatory elements that might be involved in human OCD.

As part of the study, the researchers assessed genetic studies of canine OCD, which normally manifests as excessive licking, sucking, or tail chasing.

"We were seeking ways to take advantage of information from other species in order to inform and focus the study in humans," explained study author Hyun Ji Noh. "Each additional species that we looked at gave us more information about possible factors in the brain that contribute to OCD."

The four genes identified by the team - NRXN1, HTR2A, CTTNBP2 and REEP3 - all showed variants in either protein-coding or regulatory DNA significantly associated with human OCD.

Researchers say the data suggest new targets to pursue an improved biological and therapeutic understanding of OCD.
Image (C) Lil Shepherd.