BVNA updates members on governance review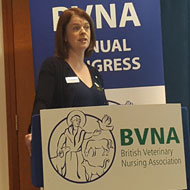 Changes to structure discussed at AGM
BVNA governance has undergone significant changes following an 18-month review, which includes staff restructuring and new legal documents. Fiona Andrew updated members at last week's AGM (8 October).

The updated articles of association, which Fiona says were long overdue, were circulated in the September Veterinary Nursing Journal (VNJ), to give members an opportunity to comment ahead of a vote at the meeting.

Some concerns were expressed that the wording as it stands, implies that RVN honorary members are not entitled to a vote. Fiona said there will be a 'short work-around' to ensure members can vote, and amended wording will be brought to next year's AGM.

Responding, honorary member Joy Venturi-Rose said that, while honorary members may be small in number, they are "big on experience and background, and we are big on passion."

She added: "I feel it would have been better to get the articles and the rules right and in alignment and present them at the next AGM. This is the first time the members had seen them, in the September VNJ, and the first time they really had the opportunity to consider them."

Going forward, the rules of the association will be noted at each AGM, making members aware of any changes so that they can contact council with any queries. Joy Venturi-Rose argued that this meant the "democratic voice of the membership will not exist" as they will not be able to vote on the rules. However, Fiona said she could not imagine a situation where council members would not listen to or act on queries from members.

Anne McBride, from the audience, argued that it might be "more appropriate" for the BVNA Council to present any proposals to the members and allow a period of comment before decisions are made.

Commenting on responses from the audience, Fiona stressed: "We certainly would take all these points on board. This is not an attempt to disenfranchise or to fool anyone."

The new articles were approved during the meeting, with 29 votes in favour, one against, and four abstentions.

The governance review aimed to reduce the managerial burden on officers and the president by engaging the expertise of Miller Consultancy and Kingfisher HR. An advert has been placed to recruit a strategic director, who will help with the long-term strategy for BVNA as a business.

One delegate - and former council member - praised the BVNA for bringing council away from the management structure of the officers' team. She explained: "I think that as we move forward, as we progress and the profession develops, I welcome those roles being taken away from council members who are veterinary nurses, and are good at being veterinary nurses."

Other changes saw the possibility of setting up transient committees for certain projects, and the review and restructure of admin support staff, which saw three members of staff take voluntary redundancy.

As part of its review, the BVNA also recognised the need to engage in veterinary politics; it has therefore signed a memorandum of understanding with the BVA, to offer a joint voice in raising awareness of animal welfare issues. In addition, the Animal Welfare Foundation now has a veterinary nurse representative.