Housing zebrafish in groups reduces anxiety, study finds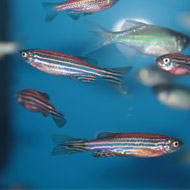 Researchers compare recovery from procedures like anaesthesia
Zebrafish housed in groups show lower levels of stress and anxiety when they undergo stressful procedures than those who are housed alone, new research has found.

Fish are increasingly being used in scientific research and there is growing evidence to show they experience stress and respond to pain in a similar way to mammals.

In the study, researchers compared recovery from procedures like anaesthesia and fin clipping in male zebrafish house individually, in pairs and in groups of six. The team analysed stress responses, such as time spent at the bottom of the tank, erratic movement and cortisol levels.

They found that anaesthesia alone and anaesthesia with fin clipping both had a significant impact on zebrafish housed alone. Both of these groups showed increased stress and behavioural alterations.

The team notes that responses of zebrafish housed in groups was less pronounced, with group-housed fish resuming normal behaviour faster than individuals or pairs. These fish also showed the lowest cortisol increase.

During the study, the researchers also confirmed that water-borne cortisol from tanks is an accurate measure of stress in zebrafish. This method avoids the need for terminal sampling, helping to reduce the number of fish required for studies on psychological stress, they add.

The research, published in the journal Animal Behaviour, was led by the University of Liverpool.