Wasp named after Harry Potter character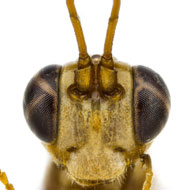 Scientist hopes to redeem insect's bad reputation
A New Zealand wasp has been named after villainous Harry Potter character Lucius Malfoy, in a bid to raise its profile.

Tom Saunders, a doctoral student at the University of Auckland, named the wasp Lusuis malfoyi. It is a native parasitoid wasp that does not sting or live in colonies.
It does, however, have a particularly gruesome reproductive technique that involves injecting eggs into the bodies of caterpillars. The larvae feed inside the caterpillar's body as the host slowly dies.

Mr Saunders hopes to champion insects of which most New Zealanders have no knowledge. It is thought there are around 3,000 endemic species in New Zealand, of which only a third are known to science.

He said: "I used the name Lusuis malfoyi because Malfoy is a character in the books with a bad reputation who is ultimately redeemed and I'm trying to redeem the reputation of our native wasps."

Lack of data could mean New Zealand is losing endemic species without even knowing it, Mr Saunders warned.

Parasitoid wasps are used as environmental tools in the country, and introduced species control a range of horticultural pests. Mr Saunders decided to work on improving methods for wasp capture during his masters degree.

"The big problem is lack of data, we do not know what species we have, how many there might be or what their host species are, so they can't be included in conservation planning," he explained.
"Much of my work in capturing them for my research was at the edge of the Waitakere Ranges so they can be found even in people's backyards but most people don't know anything about them."


Image © Tom Saunders/University of Auckland