Homeopathy only appears to work due to 'perceptual errors' - study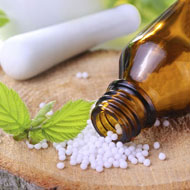 RVC team says biases can lead to misperceptions

New research by the Royal Veterinary College (RVC) suggests homeopathy in veterinary care can appear to be effective due to perceptual mistakes, when in actual fact they are 'fundamentally non-effective'.

The findings, published in the Veterinary Record, also have significant implications for the use of homeopathic treatments in people, researchers say.

Led by Emeritus Professor in Pharmacology, Peter Lees, the team aimed to take the first step in providing a better understanding of the processes that lead to misperceptions on clinical and healing phenomena. This, they say, will give veterinary and medical practitioners a clearer idea on which clinical interventions are more effective, and which can be discounted.

The article, 'Comparison of veterinary drugs and veterinary homeopathy', suggests that many phenomena perceived in labs and clinical settings are the result of coincidence, not understood causes. As a result, health improvements can be wrongly linked to ineffective products, such as homeopathic remedies.

There are inherent uncertainties in determining the body's response to treatments, and therefore cognitive bias can prevent veterinary surgeons or medical doctors from recognising that their intervention was not the reason for a patient's health improvements.

Clinical trials are also subject to numerous biases, such as confirmation bias, ascertainment bias, selection bias and publication bias. All of these apply with randomised clinical trials (RCTs). Bias-free standards are not always achieved in human RCTs of conventional medicines, and researchers say they are very rarely achieved in veterinary RCTs of homeopathic treatments.

Homeopathy is often used for chronic conditions with fluctuating signs, or acute, self-limiting conditions. These types of condition are difficult to assess in terms of response to treatments, because of the natural history of the disease and subjective biases.

While homeopaths report that their remedies are effective, researchers argue that efficacy beyond placebo is not apparent in well-controlled clinical trials that eliminate biases and other effects. Their article acknowledges the potential value in counselling or psychotherapeutic elements of homeopathic consultations, but point out that this placebo effect would not apply to veterinary patients.

Researchers say their papers highlight ethical concerns regarding veterinary surgeons treating patients with an 'ineffective' therapy.

Homeopathic products are sometimes given when conventional drug-based therapies have failed, but on occasion they are also used as alternatives to licensed pharmaceuticals. Additionally, researchers say not all of these treatments are neutral in effect; some are given in highly concentrated forms that could potentially harm patients.

Homeopathy was invented around 1796 and debates on its use have raged for decades. There remains a small but significant use of this practice by vets.

Image courtesy of the RVC