Hero police dog to receive national award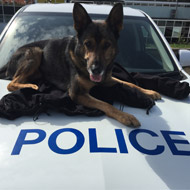 Finn braved serious injuries to hold down a suspect
A hero police dog that showed immense bravery whilst suffering from horrific knife injuries is to receive a national award.

Eight-year-old German Shepard Finn will receive the International Fund for Animal Welfare (IFAW)'s Animal of the Year Award at a prestigious ceremony in London later this month.

Finn and his handler were chasing a suspect last October when they were both stabbed with a knife. Finn sustained serious wounds to the head and chest whilst PC Wardell suffered an injury to his hand.

Despite losing a lot of blood, Finn clung onto the suspect until PC Wardell was able to place him in handcuffs. Finn was then rushed for emergency surgery, where he was deemed to be just minutes away from losing his life.

Thankfully, Finn made a full recovery and was declared fit for duty in a matter of weeks. On his first night, he even managed to track down and catch another suspect!

Finn's incredible story was documented by PC Wardell on social media, who firmly believes he wouldn't be here today if it wasn't for Finn's bravery and loyalty. He campaigned tirelessly for 'Finn's Law', calling for attacks on police animals to be upgraded from a criminal damage offence (at the time they were considered mere 'property'). He also campaigned for an increase in maximum sentencing from six months to five years.

The Finn's Law petition went on to attract more than 127,000 signatures before the last general election. In February, such attacks were raised to an 'aggravated offence' and, earlier this month, the government announced plans to increase the maximum sentence to five years in prison.

"Finn is a truly remarkable dog in a million. His defence of his handler and his dedication to duty shows the special relationships that can exist between dogs and people," commented Philip Mansbridge, UK director of IFAW. "Similarly, PC Wardell's tireless campaign following the devastating attack on his canine best friend is admirable and we hope it will help prevent similar attacks on police animals in the future."

PC Wardell described the past year as a 'real emotional rollercoaster'.

"It still feels very raw now but we have at least turned negatives into positives as much as possible," he said. "I was really blown away to hear that Finn was to receive the IFAW Animal of the Year Award, not just because IFAW has been a group at the forefront of the push to change legislation but also it is an honour to see Finn's actions recognised with this award."

Finn will receive his award at the IFAW Animal Action Awards at the House of Lords on October 17.