MSPs back ban on wild animals in circuses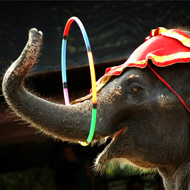 Bill passes first stage with unanimous vote
Scottish legislation to ban the use of wild animals in circuses has received unanimous backing from MSPs at Holyrood.

The Wild Animals in Travelling Circuses (Scotland) Bill would make it an offence for circus operators to cause or permit wild animals to be used in travelling circuses in Scotland.

Roseanna Cunningham, cabinet secretary for Environment, Climate Change and Land Reform, led a debate on stage 1 of the legislation. MSPs voted in support of the bill's general principles, but many called for it to be strengthened.

BVA's Scottish branch president Melissa Donald welcomed the move.

In a statement she said: "This is an issue that BVA has long campaigned on and, while it may not affect a great number of individual animals, the use of wild animals in this way is emblematic of the way we treat all animals.

"Scotland is already leading the way on so many animal health and welfare initiatives and this important, cross-party vote shows Scottish Government making good on its promises to ban the use of wild animals in travelling circuses. The first country in the UK to take steps do so."

It will now pass to stage 2 for detailed consideration and amendments in committee. It will then return to full parliament for final amendments and approval.