Most equine owners face end-of-life decision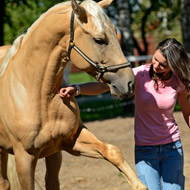 Project highlights need for more support and resources

One in every eight UK equids die suddenly, meaning most owners will be faced with making an end-of life decision at some stage, new research has found.

The project, led by Advancing Equine Scientific Evidence (AESE), also reveals that around two-thirds of those who had lost an equine before did not have a plan in place.

World Horse Welfare, which supported the project, is now inviting vets to collaborate on a quality of life tool that will provide support for owners in assessing their equine.

Roly Owers, chief executive of World Horse Welfare, said: "End of life is a difficult subject for both equid owners and their vets so this research is vital in helping us to better understand attitudes and the various factors which can influence the decisions of owners at the end of an equid's life.

"Delayed death has long been a key welfare problem facing the UK's equine population and in fact, was identified as one of four key challenges in the 'Horses in our Hands' research report compiled by the University of Bristol in July last year, so this research is a positive step forward in helping tackle the issue."

The Equine End of Life Project (EEOL), also supported by The Donkey Sanctuary, is the first of its kind in the UK. Over three years, students from 13 different institutions collected data from 2,678 participants. The students used a combination of in-depth interviews, focus groups and an online survey.

The research revealed that the key influence in owners' end-of-life decisions was their own assessment of quality of life. However, many felt they needed more support in doing so, with around half of participants wanting more information on this.

Dr Faith Burden, director of research at The Donkey Sanctuary, commented: "We were able to reach out to our network of donkey owners and practitioners to ask for their help examining attitudes to end-of-life issues. Euthanasia is an important final act in the care of any animal; it is always a painful decision but one that should be taken at the right time when their quality of life deteriorates.

"Assessing quality of life can be difficult, this is particularly true for donkeys who are stoic in nature and often hide signs of pain. The findings of this study will help us to better support donkey and mule owners dealing with difficult 'end-of-life' issues – ultimately finding the right time to prevent suffering."

Findings from the study will be presented throughout BEVA Congress (13-16 September). Visitors are invited to stop by the World Horse Welfare stand to pick up free copies of the existing 'Just in Case' materials for their clients. The materials are also available to order through World Horse Welfare's website.