London man sentenced for keeping wild goldfinches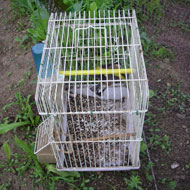 Five caged birds spotted at allotment

A man has been handed a suspended sentence for illegally keeping five wild-caught goldfinches at a London allotment.

Metropolitan Police contacted the RSPCA after they received a report about the birds being kept at the allotments in Larmans Road, Enfield.

One of the charity's inspectors, who cannot be named as he works undercover, said: "He had two decoy birds set up outside, one on the ground and one in the tree - both in tiny cages. The cages were cramped and dirty, and the birds were very distressed being confined.

"The set-up looked like it had been there for some time, but a lot of thought had gone into it. The trap was set with a piece of string running to behind a shed so he could lay in wait to capture unsuspecting birds."

Mazaffer Yildiz-Coban, 57, of Warwick Road, Enfield, appeared at Highbury Corner Magistrates' Court on Wednesday (6 September), according the RSPCA. He pleaded guilty to three offences under the Animal Welfare Act 2006 and the Wildlife & Countryside Act - possession of live wild birds, possessing a clap net capable of being used for the taking of wild birds, and failing to meet the welfare needs of wild birds.

Yildiz-Coban was sentenced to eight weeks in prison, suspended for two years, and was ordered to pay £515 in costs and fines. He was also banned form keeping animals for life.

All five goldfinches have been released back into the wild.
Image © RSPCA