WSAVA vaccination project reaches halfway point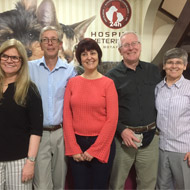 Vets attend education events in Rio de Janeiro
A project to improve understanding of infectious diseases across Latin America and to advise vets on 'best practice' in vaccination has reached its halfway point.

In August, some 200 vets attended two half-day continuing education events hosted by the World Small Animal Veterinary Association's (WSAVA) Vaccination Guidelines Group (VGG).

The event in Rio de Janeiro, which was live-streamed in Facebook, reached a further 400 vets on the day of broadcast and double that number during the days following.

Ahead of the visit, the VGG distributed an online questionnaire survey among vets in Brazil to collect data on infectious disease occurrence, veterinary demographics and vaccination protocols. Almost 600 vets completed the survey, which was presented during the events.

VGG chairman Professor Michael Day said: "The VGG was delighted by the success of this visit to Brazil; a country with an estimated 100,000 veterinarians with students graduating from approximately 200 public and private veterinary schools.

"Brazilian veterinarians are accustomed to the principle of annual revaccination of dogs and cats with multicomponent products, but those we spoke to were excited by the new concepts of less frequent and individualised vaccination, incorporated into a preventive healthcare package for pets.

"Vaccine-preventable infectious diseases remain highly prevalent in Brazil, with the additional importance of canine visceral leishmaniosis as a significant zoonotic disease. Increasing herd immunity by improving vaccination coverage is clearly an important goal for the Brazilian veterinary community."

The VGG develops globally relevant recommendations for best practice in the vaccination of dogs and cats. During 2016 the VGG ran a similar programme of activity in Argentina and, in 2018 it will visit Mexico will run the online survey in nine other WSAVA member countries in the region.

A final white paper on the findings of the project will be prepared for publication during 2019.