VPIS offers seasonal fungi advice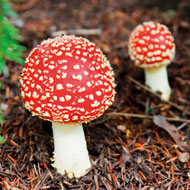 Trusts offers help identifying species
The Veterinary Poisons Information Service (VPIS) is offering advice to vets on fungi poisoning, as recent wet and humid weather has prompted an increase in wild fungi growing in gardens, forests and fields where pets may be walking.

There are more than 4,000 fungi species in the UK. The fruit body is the part most likely to be ingested, but identification of particular fungi can be difficult as the fruit bodies are variable in shape, size and colour. The majority of species are non-toxic but some can be highly dangerous, even leading to fatalities.

Severe toxicity is uncommon in the UK but VPIS says that, as a general rule, the sooner the onset of clinical effects, the less toxic the fungi. Vomiting and diarrhoea (usually within six hours) is the most common early-onset clinical effect. Rarer, more toxic species can cause hepatic and/or renal effects, which could be fatal. Other species can also cause neurological effects.

VPIS works with the Fungus Conservation Trust to provide a fungi identification service. The trust may be able to identify the specific fungal species to which the animal was exposed, allowing the VPIS to offer specific treatment advice.

Vets requiring this service should contact the VPIS with as many details as possible on the animal and the incident. A questionnaire will be sent via email for the vet, who may attach photographs of the fungi if possible. A sample can also be sent to the trust, but these should be handled carefully, wearing gloves, and stored in a paper, not plastic, bag.

Identification will be attempted once the VPIS has received the completed questionnaire and images. In the meantime, the VPIS advises that gastric decontamination can be carried out, if appropriate, assuming the animal is not hyperactive and the fungi was ingested within two hours of presentation.

Asymptomatic animals should be monitored for at least six hours and given appropriate symptomatic and supportive care, ensuring they are well hydrated. Renal and hepatic function should also be monitored if signs other than gastrointestinal irritation occur.