Dutch retailers withdraw eggs over fipronil concerns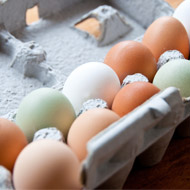 Insecticide banned for use on animals intended for consumption
Dutch retailers are withdrawing eggs from their shelves over fears they could be contaminated with fipronil.

Traces of the insecticide were reportedly found in Belgium and the Netherlands last month, which has led to some poultry farms shutting down and to supermarkets halting the sale of eggs.

According to news agency Reuters, German authorities are working to examine all egg supplies and to determine where they originated. But German agriculture minister Christian Schmidt said the likelihood of a health hazard was very unlikely.

"The situation is under control, but we cannot give the all-clear signal yet ... We are taking this very seriously," Schmidt told the Straubinger Tagblatt/Landshuter Zeitung newspaper group.

Last week the Dutch Food and Safety Authority (NVWA) issued a warning to consumers urging them to avoid a specific type of egg recognisable by specific serial numbers. However, some 180 cattle farms, rearing companies and hatcheries have been temporarily shut down.

Many supermarket chains including Penny and Germany's REWE have removed Dutch eggs from their shelves. On Friday, Aldi stores confirmed that is has halted all egg sales, regardless of origin. Albert Heijn - the country's largest supermarket - also said that it has removed two-thirds of the eggs it normally sells.

Often used in veterinary products against mites, fleas and ticks, fipronil is banned for use on animals intended for consumption. For the World Health Organisation (WHO) fipronil is "moderately toxic" to humans and, in large quantities, it can damage the kidney, liver or thyroid gland.