Caring Genie crowned Cat of the Year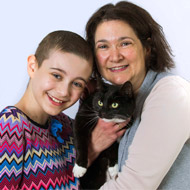 Rescue cat honoured at National Cat Awards 2017

A cat that helped her 12-year-old owner battle bone cancer has been honoured at a special ceremony in London.

Eight-year-old Genie was crowned overall winner at the National Cat Awards 2017 for the incredible support and inspiration she provided Evie Henderson.

Evie, who was diagnosed with bone cancer in March 2016, has endured six gruelling rounds of chemotherapy, painful operations, and long hospital stays away from home.

During this time, Evie has gained strength from the bond she has with Genie, watching videos of her from her hospital bed and telling doctors that she needed to get better so that she could go home to see Genie.

When Evie started to lose her hair, she noticed that Genie's fur was moulting and that it helped her to feel like she was not alone.
As well as being crowned overall winner, Genie also scooped the award for 'Outstanding Rescue Cat'.

Presenting the award at a star-studded ceremony in London's Savoy Hotel, actress Anita Dobson said: "None of us could fail to be moved by the close bond that these two share, a well-deserved win."

Receiving her second trophy from the judges, Evie said: "I'm utterly stunned. I really can't believe it. Genie deserves this so much. I was so happy to win our category but to win again is really amazing, incredible. It's fabulous; I'm shocked, surprised and delighted by my cat at the same time."

Journalist Andrew Collins, actor Paul Copley and 'The Vamps' musician James McVey were among the celebrities that attended the awards ceremony, organised by Cats Protection.

Other worthy winners on the night included:

Pixie - winner of Hero Cat - who alerted a sleeping couple to their toddler who was choking in her cot
Tilly - winner of Most Caring Cat - who helps her owner cope with an agonising medical condition
Spike - Winner of PURINA Better Together - who helps his owner cope with a debilitating disease

Mittens - winner of Furr-ever Friends - who helps a young girl with autism cope with a serious medical condition.
Image (C) Fabio De Paola.