Holidaymakers stranded due to 'turtle curfew'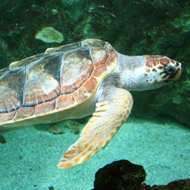 Curfew protects endangered loggerheads from light and noise

Holidaymakers were reportedly left stranded on the Greek island of Zakinthos (Zante) on Sunday (30 July) due to a 'turtle curfew' on flights.

According to The Guardian, the curfew had been in place because of vulnerable loggerhead turtles breeding nearby.

Passengers waiting for their flight - a replacement for an aircraft that had technical difficulties - were stuck at Zakinthos International Airport. Some travellers, who did not book alternative flights, only arrived home on Tuesday.

It is currently turtle breeding season in Greece and, according to the Sea Turtle Protection Society of Greece, Archelon, late June to early July sees the highest levels of spawning.

Zante's Bay of Laganas is one of the most important breeding grounds for loggerhead turtles, who like to lay their eggs in the sand. In 1984, due to its importance as a reproductive area, the Greek government introduced measures to protect it.

These measures were further strengthened in 1994, when night flights into and out of Zante were prohibited. This is because the runway for take-off and landing passes over the beach and the aircraft noise and lights disturbs nesting turtles.

Easyjet later apologised for the passenger's delay. A spokesperson said: "We do all possible to try and minimise delays and as such planned to send a replacement aircraft.
"Unfortunately, due to the night curfew rule at the airport, we were unable to get the replacement aircraft into the airport. The flight departed Zante and arrived at London Gatwick today."
Image (C) Strobilomyces