Slug slime inspires new medical glue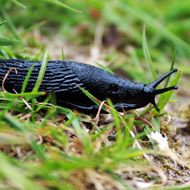 Technology has wide ranging applications
Slug slime has inspired scientists to create a "tough adhesive" that binds to biological tissues, without toxicity, even when they're wet.

Researchers say the material has far reaching applications in the medical field, either as a patch that can be cut to desired sizes and applied to tissue surfaces or as an injectable solution for deeper injuries.

The study was conducted by a team of researchers from the Wyss Institute for Biologically Inspired Engineering and the Harvard John A. Paulson School of Engineering and Applied Sciences (SEAS).

"Nature has frequently already found elegant solutions to common problems; it's a matter of knowing where to look and recognising a good idea when you see one," says Donald Ingber, founding director of the Wyss Institute.

"We are excited to see how this technology, inspired by the humble slug, might develop into a new technology for surgical repair and wound healing."

The adhesive was inspired by a slug called The Dusky Arion, which is commonly found in Europe and the United States. The Dusky Arion secretes a special type of mucus that, when threatened, binds it to the spot, making it difficult for the predator to pry it off.

Previous research showed that its mucus is composed of a tough matrix littered with positively-charged proteins. This inspired the researchers to create a double-layered hydrogel, consisting of an alginate-polyacrylamide matrix. The matrix then supports an adhesive layer that has positively charged polymers protruding from its surface.

They tested the adhesive on an array of wet and dry pig tissues, including skin, heart cartilage, liver and artery. The team found that it stuck to them all with significantly greater strength than other medical adhesives. The adhesive also maintained its stability and bonding when implanted into rats for two weeks and when used to seal a hole in a pig's heart.

"This family of adhesives has wide-ranging applications," says co author Dr Adam Celiz, a bioengineering lecturer at Imperial College London. "We could even combine this technology, with soft robotics to make sticky robots, or with pharmaceuticals to make a new vehicle for drug delivery."

The study, Tough adhesives for diverse wet surfaces, is published in the journal Science.