AHT research supports horses and humans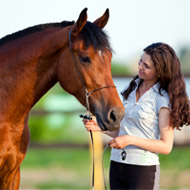 Scientists identify similarities between life-threatening diseases
New research by the Animal Health Trust (AHT) has revealed similarities between life-threatening diseases in horses and humans.

For the first time, researchers have been able to sequence the DNA of the strangles bacteria, Streptococcus equi (S.equi), to identify which genes are essential to its survival.

In doing so, they found that over 80 per cent of the essential genes in S.equi are also essential for the human pathogens Streptococcus pyogenes and Streptococcus agalactiae.

Researchers say the work opens up a huge opportunity for sharing vital data to improve medicines for horses, livestock, humans and more.

"Defining the genes required for disease provides us with unprecedented information to design new vaccines against strangles – which could better protect our horses and prevent needless suffering," explained lead researcher Amelia Charbonneau.

"As with all of our research at the AHT, we share our discoveries to help further scientific knowledge. Not only is this a huge step forward for combatting strangles in horses, but my improved DNA sequencing method and results could be used by scientists working to protect other animals, as well as humans."

Strangles is one of the most commonly diagnosed infectious diseases of horses. The condition causes great economic loss to the equine industry and is an ever-present threat to horse welfare.

S.equi is closely related to the human pathogens Streptococcus pyogenes (Group A) and Streptococcus agalactiae (Group B). While Group A streptococci cause diseases like impetigo and scarlet fever, Group B streptococci are responsible for meningitis and pneumonia in humans. Group B streptococci can also cause mastitis in cattle.
"The data we have produced will be used to help improve the safety and effectiveness of vaccines and understand how the bacteria causes disease and survives in the environment," Amelia concludes. "It is a hugely exciting project for the equine industry, human and veterinary medicine."