Sensors enhance relationship between lameness and back problems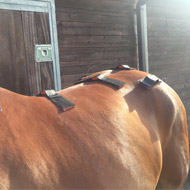 Researchers construct most precise analysis yet

Researchers are using sensor technology to enhance their understanding of the relationship between lameness and back problems in horses.

The sensors enable researchers to construct the most precise analysis yet of the interactions between of the interactions between different anatomical parts.
They are small, lightweight and can be easily attached to the horse, meaning that assessments of back movement can also be conducted in clinical cases.

In a study by led the RVC and the Animal Health Trust, experts attached the sensors to thirteen horses with hind limb lameness. The horses were trotted in straight lines and lunged on left and right reins, before and after lameness was improved by diagnostic analgesia. The sensors collected data on gait asymmetry and ranged of motion from along the spine of the horse, as well as from the hips.
The results show that:

• Immediately after resolution of lameness, hip movement asymmetry improved by an average of seven per cent.
• Movement asymmetry along the back decreased significantly by between 33 per cent and 52 per cent across the pelvis, lumbar and mid thoracic region.
• The range of motion on the back showed a clear increase, particularly in the mid-thoracic and lumbar region, suggesting that removing limb related pain allows horses to move more freely through their back.

Dr.-Ing. Thilo Pfau, senior lecturer in bio-engineering at the RVC commented: "The observation that reductions in limb-related lameness immediately resulted in increased ranges of motion of the back can be seen as a model for the inverse process: when a horse develops a limb related lameness, this impedes movement patterns across the body. The back, as the bio-mechanical link between forelimbs and hind limbs, appears of particular interest here.

"It is well documented that horses with hind limb lameness show compensatory head movements, and we have recently shown that the movement of the withers plays an important role in the process of distinguishing between forelimb and hind limb lame horses."

He continued: "We strongly believe that back movement plays a central role in horses with poor performance and that more research needs to be conducted elucidating back movement as a function of treatment and rehabilitation regimens, such as our recent study on the effect of elastic exercise bands."
Image (C) RVC