Colorado dogs test positive for rabies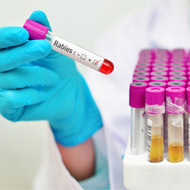 Public urged to check their pets are vaccinated

Two dogs in Colorado, USA, have been diagnosed with rabies, the Colorado Department of Public Health has confirmed. They are the first cases of rabies among dogs in the state since 2003 when a dog from Texas tested positive.

The Colorado Department of Public Health states that all contacts of the dogs have been identified and sought appropriate care to prevent rabies.
Government officials are urging people to check their pets' vaccination status, stay away from stray and wild animals and take precautions to prevent the disease.

Colorado public health veterinary surgeon Jennifer House commented: "When the family dog or cat gets rabies, there's an increased risk of exposure to people. It's critical to make sure all your pets are up-to-date on their vaccinations. This not only protects your pet but keeps your whole family safe."

In Colorado, rabies is most common in wild bats and raccoons. Pets and farm animals can also contract rabies if they are bitten by rabid wild animals, and they have not been vaccinated.

While case numbers tend to increase as the weather warms up, Colorado has seen a higher number of rabid skunks this year compared to last.

The skunk variant of the disease was first discovered on the eastern border in 2007. Since then, rabies has swept throughout the region, putting both humans and their pets at risk.